Shambo & the sanctity of life – outcome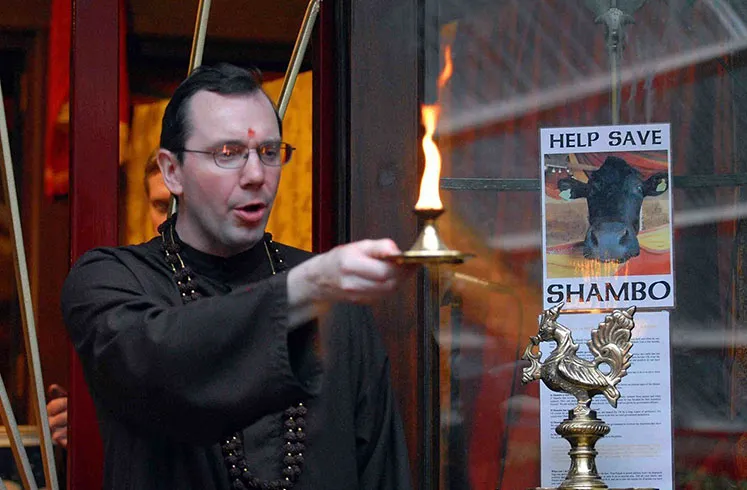 27.07.2007
The Community would like to thank all of you for signing the petition and supporting us in trying to save Shambo's life. Remember Bovine TB is treatable. Please continue to voice your concern about this issue and write to the Minister for Rural Affairs in Wales: [email protected] And to Hilary Benn Secretary of State for Environment, Food and Rural Affairs: [email protected]
Our efforts to save Shambo from being killed continued to the last minute. Just before 8.00 am we received a fax from a Cow sanctuary called Govardhan Charitable Trust in India requesting the Welsh Government to spare Shambo from slaughter. The trust was prepared to take Shambo if they are given time to organise transport.
Shipping of Shambo was organised by a supporter from Switzerland. Shortly after this announcement the Government officials and the police arrived here demanding entry to the premises to collect Shambo. The officials were forced to obtain warrants to enter the site. Meanwhile we held continual prayers to celebrate the sanctity of life joined by many devotees and supporters from around the world. Everybody present experienced the immensity of God's grace and power.
Shortly after 2.00pm, the officials returned with two entry warrants. They attempted on several occasions to serve the warrants to the devotees involved in worship. However they quickly departed clearly overwhelmed by the atmosphere of intense devotion. The unfolding drama was witnessed by millions worldwide through the extensive live media coverage. Our website was inundated with hits and unable to cope with the demand. Two companies generously came to our assistance to maintain our site to ensure that the world bore witness to the unfolding drama of the desecration of Shambo.
At about 4.00pm, police used bolt cutters to get through the gate to the Temple precincts and moved their vehicles – including an animal trailer and four riot vans – onto the site. More than 60 police officers then started leading or carrying away worshippers from their position directly outside Shambo's enclosure. Brother Jamie had the opportunity to bless Shambo and gave him his last rites. Shortly after 7pm, three men in blue hard hats (why hard hats?) entered Shambo's enclosure. After the police had removed the final monks from in front of the Temple gates.
After so much unnecessary hype about Shambo's risk to public and animal health, it was clear none of the officials took any meaningful biosecurity measures. No gloves were worn, no disinfectant was used when entering or leaving the pen and a trail of straw was left littering the ground outside Shambo's pen. At around 7.25pm, government officials finally loaded Shambo onto a trailer and drove him away to his death.
Shambo gave us one last look from the government trailer. We feel that he understood that his life was not in vain. Many people around the world have been deeply touched by his plight and have questioned their attitude and that of society in general to the sanctity of life. The Welsh Assembly Government have committed the most violent and ignorant act of sacrilege against our Religion and desecration of our Temple in destroying an innocent and sacred life. What a sad day to see our government behaving with such gross ignorance.
30.07.2007
Many people have been upset and confused by the recent comments made by Mr. Jay Lakhani in reference to Shambo's treatment by the Welsh Assembly Government. We would like to assure those people that the views held by Mr. Lakhani's will never be ours. We pray that through a deeper experience of the Divine Mr. Lakhani will attain a clearer understanding of the philosophy of Sanatana Dharma.
06.08.2007
The Welsh Assembly Government seem to be minded to continue to kill members of your extended family at Skanda Vale. How would you feel if a member of your family has a illness that is treatable, but the Government is insisting on killing the person because of a hypothetical risk to humans and animals? Cows are successfully treated for bovine TB in India. If our animals have bTB we want to be able to treat them like we would treat a human being. After a period of isolation and treatment the animals can continue a normal life.
Please help us by lobbying your local MP's, the Minister for Rural Affairs in Wales: [email protected] and Hilary Benn, Secretary of State for Environment, Food and Rural Affairs: [email protected].
This is not just a issue for the UK
The following letter has been written to Elin Jones by the Hindu Conference of Canada:
The Hindu Conference of Canada, Canada's largest Hindu advocacy, would like to express our shock and dismay at the insensitive and unwarranted decision on the part of the Welsh government to slaughter the bull known as 'Shambo'.
As you know, this bull had great religious significance to the Hindu community worldwide. The callous decision to desecrate our faith in this manner, especially considering scanty and inconclusive nature of the medical evidence, demonstrates scorn and contempt towards Hindus.
It may be of interest that our members and supporters include professionals and senior elements within North American trade promotion councils and tourist bureaus, many of whom deal regularly with investment opportunities and leisure travel to the UK and Wales.
Our executives, members, and supporters will certainly take all relevant factors into consideration when evaluating future decisions on trade, investment, and tourism involving your country.
We now understand that the Welsh government is intending to enforce the slaughter of two further animals from the Temple herd at Skanda Vale. This is unacceptable.
The horrific scenes of pilgrims including ladies and children and Hindu priests being dragged away from an act of devotion celebrating the sanctity of life at the Hindu Temple at Skanda Vale, have incensed the Hindu Community here in Canada. These scenes were witnessed on world wide media and can only lead us to draw the conclusion that the government in Wales has no regard for the rights of the Hindu Community to freely practice their religion.
Good government is about learning from past mistakes. Tolerance, active engagement and respect for the diverse communities within our society are the recipe for harmonious living. In the interests of justice and good judgement, we ask you to reconsider your current stance and engage positively with the Temple and wider Hindu Community to find a solution which does not further desecrate the Hindu religion."
Ron Banerjee
Director, Public Relations
Hindu Conference of Canada
www.hccanada.com