The Vel and Naaga are essential symbols of Lord Murugan that hold great significance in Skanda Vale's history. In tribute to these divine icons, in August 2023 we consecrated a large Vel and Naaga, overlooking the ashram. 
At the base of the Vel, carved into the rock face, are various deities including Ganesh, Sage Agastya, Dakshinamurti, Bogar Rishi, and the five Saints of Llanpumsaint.
The Vel shrine is open 24 hours and is accessible only on foot as a parikrama (circular pilgrimage route) through the woodlands of Skanda Vale.
The Vel is a divine spear symbolising the shakti (power) of Lord Murugan, with which he defeated the demon Surapadma. With single-pointed accuracy, the Vel cuts through negativity, pierces illusion and delusion, and reveals jnana (experienced awareness) of reality.
The Vel is also the symbol of the Lord's authority, which was granted to our founder, Guru Sri Subramanium, at a temple in Badulla, Sri Lanka. It was there that the Lord appeared to Guru, accompanied by a three-headed Naaga (cobra).
Upon receiving that darshan, Guru simply requested that the Lord remain with him, to which the Lord responded, "As you have not asked for any wealth or treasures for yourself, you will have me throughout all of your life."
Lord Subramanium comes from the sun — steps out of the sun. His whole personality is the colour of the sun… golden like the colour of kumkum. Eternally youthful. We say to him "You who have come from the sun, the eternal Lord, riding the peacock, coming out of the sun — from infinity. You are Rudra, you are Shiva. Please protect us, please look after us, please be with us".
Established in 1973, the Lord Murugan Temple was the first temple at Skanda Vale. Open for darshan every day at 05:00, 13:30 and 21:00.
The Sri Ranganatha (or Lord Vishnu) Temple was inaugurated on the millennium. Open 24 hours a day, with daily pujas at 09:30.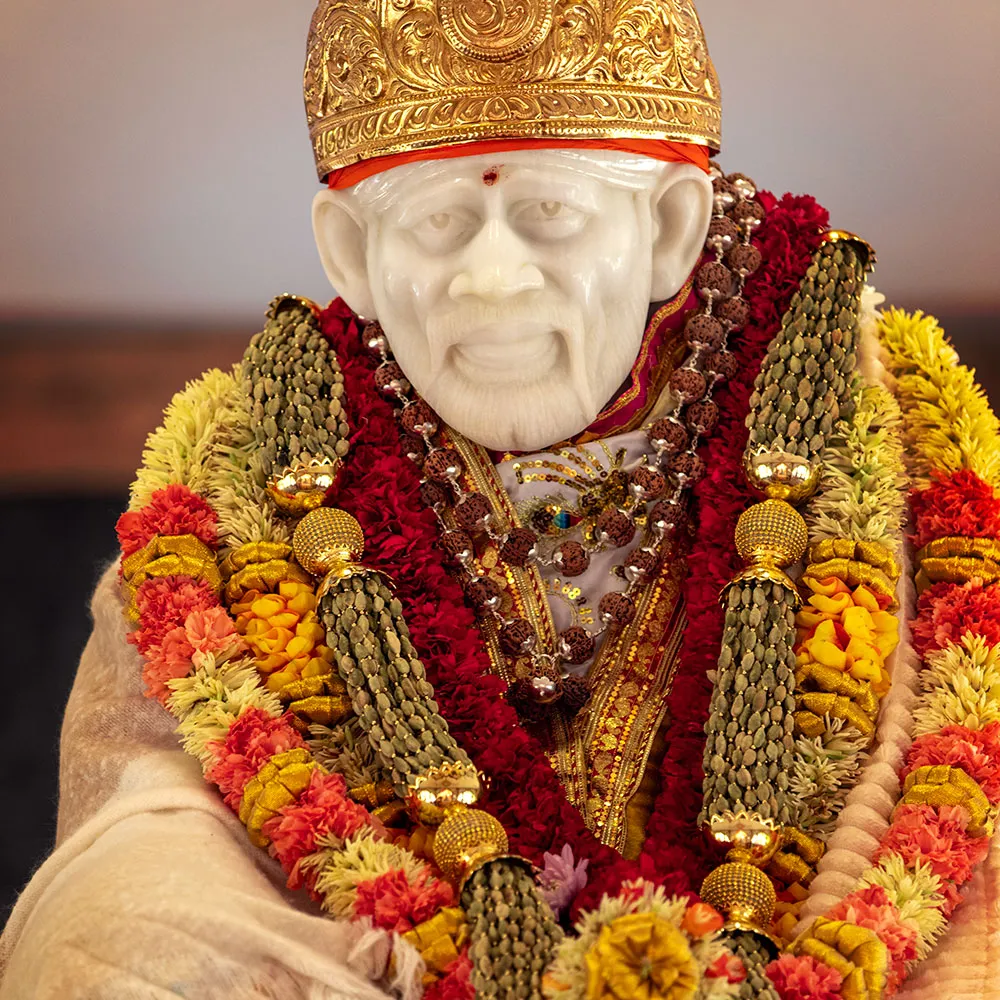 The Shirdi Sai Baba Temple was inaugurated on 12th June 2023, and is open all day for darshan, with daily pujas at 09:30.
Consecrated in 1991, the Maha Shakti (or Kali) Temple was the second temple at Skanda Vale. Open for darshan every day at 06:30 and 18:00.
Inaugurated in 2016, Somaskanda Ashram is our mountain temple in the Swiss Alps.