Our Sustainable Energy Strategy
The Skanda Vale Board of Trustees is committed to balancing our energy use and emissions with the needs of others and the natural world.
Over the next few years, we will decrease our use of non-renewable energy, working steadily towards greater independence from the central grid. For many years we have been transitioning from gas and diesel to renewable alternatives, but there is an increased sense of urgency brought by the unfolding climate emergency and the exponential cost of mains energy supplies.
The initial outlay for energy independence is high but these costs can be mitigated by a strategic approach phased in over time. The commitment of the Board of Trustees, coupled with strong support for renewable energy from grant funding bodies makes the transition to energy independence an achievable goal.
It makes no sense to invest in any renewable heating and power generation if our buildings are not energy efficient, so for the last 15 years, we have been ensuring our buildings are properly insulated and airtight.
Old stone buildings (Craig Fryn volunteer accommodation, Skanda Vale Hospice and the Sister's Lodge) have all been retrofitted with high-quality insulation and new double-glazed windows, then made airtight to improve their energy efficiency.
All of our new buildings will be designed to be ultra-low energy, using 70-95% less energy than standard models. We normally use timber from our own land and green building materials to minimise our CO2 footprint.
This building uses timber and clay render from our own land. The strawbales used in the walls are carbon neutral and are highly insulating to help reduce our heating energy use.
The elephant barn is built from polystyrene blocks filled with concrete – it was featured in Green Building Magazine as an example of a highly energy-efficient building project.
Wood is a carbon-neutral energy source and Skanda Vale is set in over 130 acres of forest, so for many years, we have been using firewood / biomass for our heating. The forests and woodlands we own are more than sufficient to sustain all of our heating energy needs for the future.
Biomass can be used in complex automated wood chip boilers or simple domestic stoves. The advantage of the automated systems is they offer much-improved efficiency, but this gain must be balanced with their set-up costs in proportion to the size and use of the building.
The majority of our larger buildings – including Skanda Vale Hospice, the elephant house, Craig Fryn volunteer accommodation, the pilgrim's main toilet block and the sister's lodge – have sophisticated biomass boiler installations.
Our smaller buildings – including the dining room, reception, cafe, offices, greenhouses and brother's accommodation chalets – use wood stoves.
We have installed solar thermal energy panels on the roof of the elephant house and at Skanda Hafan to provide domestic hot water. Skanda Hafan also uses a ground source heat pump for the underfloor heating system and to preheat the domestic hot water.
Skanda Vale uses a substantial amount of mains grid electricity for lighting and appliances. Between 2021 and 2022 the cost of mains electricity jumped from around 15 pence per kilowatt-hour to over 30p per kilowatt-hour. Energy prices have risen dramatically, so alternative sources must be found as soon as possible.
In August 2022 we installed solar panels to provide up to 16 kilowatts of electricity on a sunny day; enough to meet the needs of the top part of the ashram. We plan to install a battery system so we can store solar power for the nighttime. This together with a 10-kilowatt wind turbine will make the top area of the ashram 95% grid independent.
A similar plan exists for the lower part of the Ashram. A 100-kilowatt solar array with a battery system could supply sufficient electricity for two-thirds of the year. In conjunction with a micro hydro plant, almost complete grid independence could be achieved.
We currently are investigating possible grants for this.
On a sunny day, these solar panels generate around 16 kilowatts of power.
The UK government will begin phasing out the sale of new diesel and petrol cars by 2030, with all new cars and vans fully zero-emission at the tailpipe from 2035. To ensure the phase-out dates are met, the government has pledged £582 million in grants for those buying zero or ultra-low emission vehicles.
Both Skanda Vale and Skanda Vale Hospice have replaced petrol and diesel cars with four fully electric cars. We plan to replace all of our cars, vans and minibuses with electric alternatives as appropriate.
As soon as possible we will install electrical charging points at all our sites (Skanda Vale Ashram, Skanda Vale Hospice and Skanda Hafan) both for our own use and for our visitors. These installations can be grant-funded.
Electric cars belonging to Skanda Vale Hospice
In 2020 we installed two high-performance industrial dishwashers so we can transition from using disposables to washable plates, cups and cutlery for our meal service. These new appliances greatly decrease the amount of waste we send to landfill. 
In addition, all of our food and garden waste is composted and used to enrich the soil of our vegetable garden. Wherever possible, our old timber (untreated fenceposts etc) is turned into biomass and scrap metal, including old appliances, are recycled to reduce the amount of metal, glass or plastic going to landfill.
Whilst it is not easy to convince vast numbers of pilgrims to recycle their waste when visiting, we make a great effort to get them to do so. The installation of new bins around the ashram with clearer signage will help.
Each year we produce around 150 tonnes of high quality organic meadow hay. This provides between 90 and 100% of the total feed for our cows, horses and elephants. It's a low-impact and sustainable feed solution that also offers significant cost-saving benefits.
In 2022 we felled a large section of larch forest, providing 500 tonnes of high quality timber. Approximately 50% of the total resource has been designated for biomass heating and 50% for timber construction projects. The great advantage of larch is it requires no paint or chemical treatment for protection from rot.
The average individual in the UK produces approximately 2 tonnes of carbon emissions each year. As a general guide, an acre of forest will capture around 2.6 tonnes of CO2 each year, and an acre of grassland around 1.6 tonnes each year. Skanda Vale has 130 acres of forest and 120 acres of grassland, so we estimate our land to capture somewhere in the region of 530 tonnes of CO2 each year.
Skanda Vale is comprised of 300 acres of mixed woodland and pasture.
Since 2010, we have been gradually replacing our pine tree plantations (larch and hemlock) with mixed native broadleaves (oak, ash, willow etc). Broadleaves support a far greater abundance of wildlife, enabling a great variety of birds, insects and mammals to thrive in a protected natural environment. Secondly, we plan to create new paths through our woodlands for pilgrims to connect to nature – native broadleaves are much more suitable for this.
We do not use fertiliser in our fields. Our 120 acres of grassland is meadow pasture, rich in flowers and different types of grass, to help support and encourage greater biodiversity throughout the Ashram. Meadow grass is much healthier for our animals than intensively managed grass, as it contains a greater variety of nutrients.
Ancient oak woodlands support a wide range of life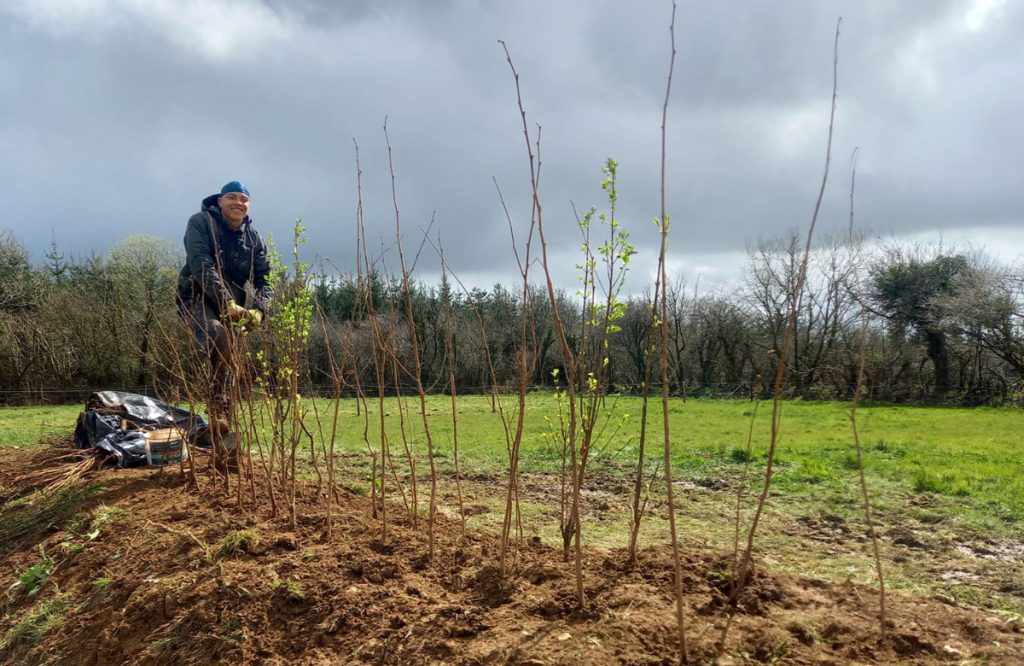 Replanting with broadleaf saplings
This policy outlines some of the steps we have already taken, some things we are doing now, and things we plan to do in the future to achieve energy independence. It is a working document and ideas will evolve as new technologies become available. The key message is that Skanda Vale is fully committed to green energy self-sufficiency and we look forward to sharing our ideas and findings to contribute positively to climate action.