The plane landed at dawn in Chennai, and as I emerged into the humid air, temperatures already in the high twenties, and rising, I was immediately surrounded by a pack of very persistent taxi drivers.
Fortunately, help was at hand. Mani, a Skanda Vale Trustee, in his home town, visiting his mother, was there, as arranged, to pick me up. He took me to a hotel, showed me where to get breakfast, and left me to catch up on some sleep.
A few hours later I was met in the hotel lobby by a tuk-tuk (auto-rickshaw) driver with instructions from Mani to show me Chennai. We visited a number of superb, ancient Temples, bringing some solace to my jet-lagged state.
However, travelling between Temples was another matter. The unceasing traffic appeared to obey no rules of the road; vehicles entered any available space – asserting their presence by loud blasts on their horns. The noise was deafening.
And then suddenly in the midst of this mayhem, a radiantly youthful Guru Sri Subramanium appeared beside me, bathed in light wearing a light blue robe and crystal mala.
I had the temerity to ask 'what are you doing here?!' He replied, as if it was obvious, 'you are going on pilgrimage and I'm here to wish you well.' And then He was He gone. Such gentle kindness, such grace.
The driver then pulled into the courtyard of a gleaming white church, Santhome Cathedral. At the end of the nave a statue of a white-robed Christ – at His feet two brightly coloured peacocks and in front, to His right, a statue of St. Michael (?) carrying a spear; these familiar symbols made me feel quite at home!
At the back of the church, steps led down to the tomb of St. Thomas; a Samadhi site I had not expected to see. This cathedral is one of only three basilicas in the world built over the tomb of an apostle (the other two being St Peter's in Rome and Santiago de Compostela, Spain built over the resting place of St James).
Tiruvannamalai
The next day, a taxi took me on the 4-hour journey to Tiruvannamalai. Once established in my accommodation I eagerly went out to find the Ramanashram. Stepping from yet more noisy traffic and the bustle of street vendors into the ashram was like entering another dimension. Quiet, order, peace.
Within the ashram are many buildings preserved from the days when Ramana was alive. One of the largest buildings is a hall with a beautiful shrine built over the tomb of Ramana Maharshi and containing a life-sized marble murti of Ramana in front of which is a lingam.
The presence of Ramana is tangible throughout the ashram and is particularly so in this hall. When Ramana was nearing the time He would leave His body devotees pleaded with Him to stay with them longer He replied "Go? Where can I go? I shall always be here."
My visit coincided with a number of pujas led by the priests. These included a Sri Chakra puja and a Maha Rudra puja during which a yagam was performed. The priests were joined by boys, of all ages, from the Vedapatasala, a school within the ashram teaching, amongst other subjects, Vedic chanting.
What was particularly impressive was not just the articulate, forceful, focused chanting but the sheer enjoyment shown by the priests and boys as they chanted. There were many devotees in the ashram, some making continuous pradakshina of the shrine in the main hall.
The devotion of the devotees was very moving and this was particularly apparent in the singing of the Aksharamanamalai. This is a poem, of 108 verses, written by Ramana Maharshi and reflecting His deep love for Arunachala.
The poem has been set to music. A verse is sung first by the men and then followed by a verse sung by the women. The haunting melody of the song and the sincere, sweet bhakti of the devotees was so exquisitely beautiful. The ashram was a good place to start my pilgrimage; it enabled me to slow down, to go inwards.
On one occasion I tried to say these words, in the pouring rain, whilst ringing the bell in the Sri Ranganatha Temple; and was I without boundaries? No, I was cold and wet!
And now here I was sitting on the marble floor in front of the Samadhi of Ramana Maharshi contemplating these words and wondering what Ramana would have to say about them. It came to me that His likely response would have been "This is all well and good but who is this 'I' who is without boundaries? Go within; enquire."
Just when you think you've got somewhere you find that there is still a long way to go!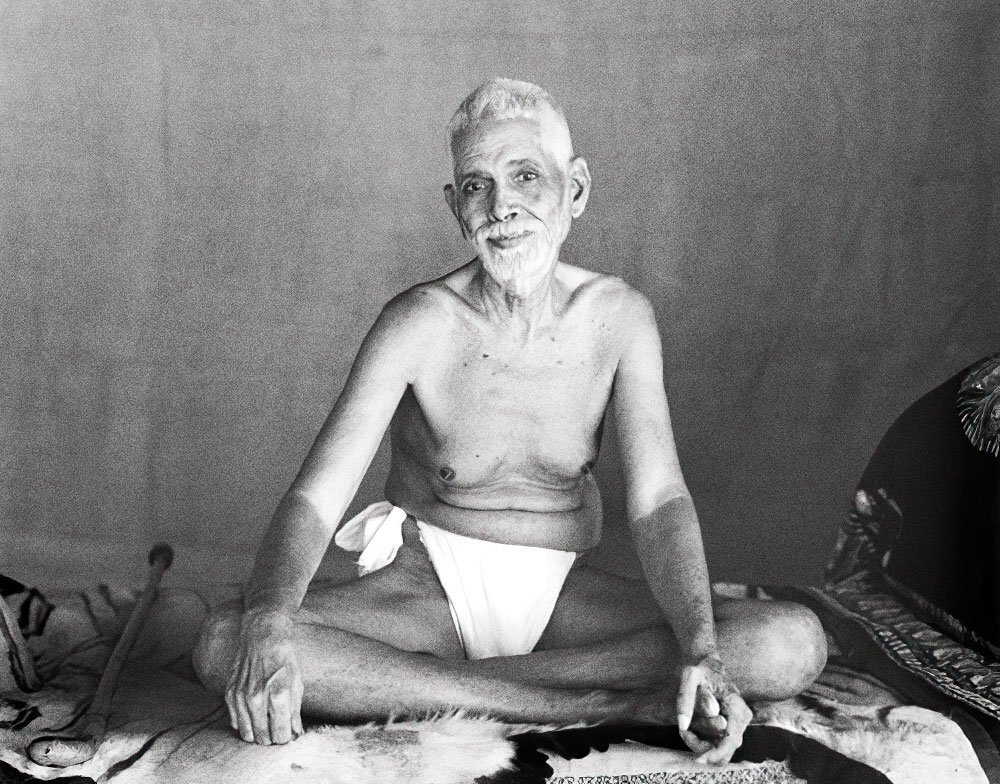 So I was slowing down and going inwards but also learning to surrender to whatever was ahead of me. What I had not anticipated, however, was a motorbike ride.
Mani (a different one!) a friend of Skanda Vale's and someone who has lived for a long time on Arunachala mountain came to pick me up. He told me to get on the back of his bike. 'You're not used to motorbikes?' he remarked. Was it that obvious?
He took me to the base of Arunachala near the Arunachaleswara Temple. We climbed up to the Virupaksha cave, where Ramana had meditated for 16 years. The cave was dark, unbelievably hot and low ceilinged but incredibly vibrant with His presence.
I had been expecting to meet Mani but was joyfully surprised to bump into ex-Brother Alfie, his wife Elizabeth, and Susan – a carer from Skanda Vale Hospice. It is clear that the ashram and Arunachala mountain are magnets for pilgrims from many parts of the world.
I had already prolonged my planned stay at Tiruvannamalai and would have been happy to remain there but there was a long journey ahead. The journey to Palani, my next step, was by train and taxi.
Palani
I paid 100 rupees (about a pound) for a three and half hour journey in a carriage crammed with people occupying every available space including the luggage racks, and the floor; this was definitely not British Rail but most enjoyable.
Travelling through India is endlessly fascinating. It was with some reluctance that I decided not to ask my taxi driver to stop at a passing village café advertising Tea, Coffee and Snakes; we still had some distance to go.
It soon became clear that my hotel in Palani was for pilgrims to the Temple. No need for alarm clocks. Everyone was up, before dawn, very noisily excited about the prospect of darshan ahead.
There are 670 steps up to the Temple. Stopping many times to catch my breath I wondered had I really seen film of Swami Suryananda (a kumbum of milk on his head) and Sri Sharavanana Baba dancing up these very same steps?
Pradakshina of the Temple, early in the morning, was also very rewarding – no noisy traffic, the sounds of waking birds, and the sight of Sadhus rising from their pavement beds.
Although I had decided on my pilgrimage destinations in advance, I was booking accommodation and travel as I went along. It was difficult to plan how long to stay in a particular place. I had perhaps booked the hotel in Palani for at least one too many days. I could not keep on climbing those steps with this body in that heat.
What to do? I set off to find another Temple that I had been told about. On arrival, the main body of this Temple was packed; a festival was taking place. People ushered me down the side and I found myself in front of a beautiful garlanded murthi of Sri Ranganatha. The priest was carrying out a simple puja – we were given flowers to offer and took aarthi.
Palani Street Festival
That evening out in the streets of Palani the festivities were still in progress; a procession of people following a man dressed as Lord Ganesh.
Fireworks were being set off, a group of young men loudly playing the drums and a line of singing women heading towards a Temple, some with trays of garlands on their heads.
As long as I was surrendering to the moment, such unplanned events were presented to me throughout the pilgrimage.
From Palani to Coimbatore airport by bus and tuk-tuk. The bodywork of the bus had obviously been repaired many times and resembled something that would have been put together in the very early days of Skanda Vale.
Ganeshpuri
From Coimbatore a flight to Mumbai. As the plane came into land, a thick brown cloud of pollution hung over the city. The journey out of the city, as night fell, was very depressing, a jigsaw of high rise buildings, blackened shanty towns and dense noisy traffic. Eventually, the traffic eased as Ganeshpuri came into view.
The contrast between this village and Mumbai was stark. The only sound was the repeated chanting of Om Namo Bhagavate Nityananda beaming out from loudspeakers. Ashram accommodation was soon arranged and I ate good, simple inexpensive food in the ashram canteen.
Initially, I found it difficult to reconcile my understanding of Bhagavan Nityananda and the magnificent Temple that had been erected around His Samadhi. Nityananda, to me, was this 'simple' naked Avadhuta who rarely spoke and who taught in a straightforward, often shockingly direct way.
But as I learned more of about His belief in the dignity of labour, (He would often initiate and take part in building work throughout the ashram), His belief in the equality of all, irrespective of caste or creed, His love and belief in the innate potential of children, and of the accounts of the many miracles He performed throughout His life – I began to realise that no Shrine, no Temple can do justice to the splendour of such a Master.
Nityananda never took credit for any miracles. He said, "Everything that happens, happens automatically by the will of God."
One evening I was taken, by a devotee, across the dry river bed of the local Thanna river. On the bank opposite the ashram was a small Siva Temple, renovated by Nityananda, containing a lingam. Two Peepal (bhodi) trees, which had been planted by Him, grew next to pools of water fed by hot springs in which families bathed.
An idyllic scene. But amongst the rushes were piles of rubbish to which people appeared oblivious. It would appear that such scenes are typical of India (there was even rubbish along a path on Arunachala). There are signs that attitudes are changing but it will take time.
I was totally dependent on a mobile phone for booking accommodation and transport. One evening in the ashram this did not appear to work. Somewhat despondent I surrendered to the situation. 'Nevermind' (as Guru would say) and set out to the Nityananda shrine.
A priest beckoned me down some steps into a small Siva shrine, next to Nityananda's Temple, and together we poured water over the lingam. My spirits were raised and as I walked into the garden by the ashram office I found that my mobile now worked and all was well.
Varanasi
And finally a flight to Varanasi. The oldest part of this ancient city is a maze of small alleyways, just big enough for a cow to walk down. My taxi had to drop me off in the outskirts. It was evening, still hot, and the festival of Holi was in full swing.
Fortunately, the brightly coloured powders, associated with this festival, had already been thrown over everything and everyone including monkeys, dogs, cows and even into the small, very numerous, lingam shrines.
The powders may have been thrown but the festivities continued – the place packed with crowds too excited to give this strange, sweating European useful directions to his guest house.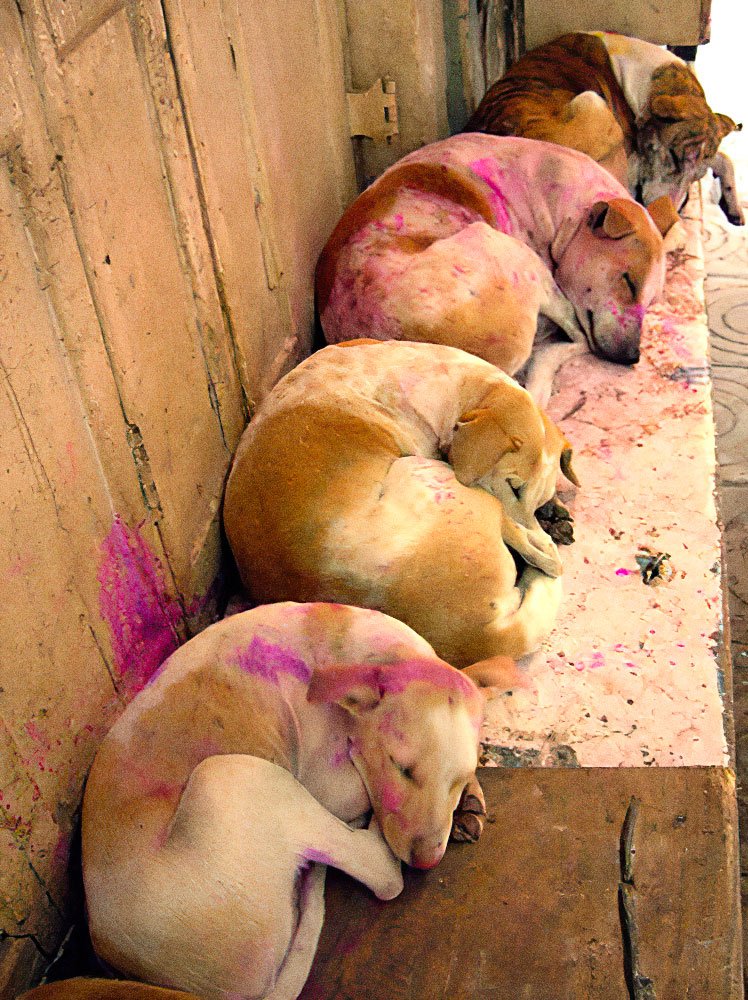 Eventually, I drew near only to discover that the final alleyway was jammed with people trying to reach a Kali Temple which had some connection with the festival; the final short distance to my guest house took as long as the rest of my walk.
The owner of the Guest House was a delightful man. He told me that his guru was the great-grandson of Lahiri Mahasaya and that a Temple dedicated to him was next door and would be open at 10:30 a.m. the next day.
In the morning I took a short walk past the Chousatti Temple (the place so many had been trying to reach the night before), and down the steps of the Chousatti Ghat to the Ganges.
Having been waiting for years to have darshan of this holy river I sat for some time watching its flow. But where was the Satyalok Lahiri Mahasaya Temple? No matter. Varanasi is a city of Temples and during my stay, I visited many of them but eventually began to feel like a spiritual tourist.
It was with some surprise when I discovered that the Temple I had looked for on my first morning, was literally on the doorsteps of my Guest House. A simple painted door led into the Temple. There was a certain eccentricity to the way this Temple was run.
I had visited many ancient Temples on my pilgrimage and had darshan of many great murtis. But this Temple was different.
A small courtyard is surrounded by five marble-clad shrines, some containing large lingams, one containing life-size murtis of Lahiri and some of his lineage. Situated away from the other shrines, on the far side of the courtyard, was a shrine containing a large, white marble murti of Mahavatar Babaji.
The Temple contains, in addition to the ashes from the bodies of Lahiri Mahasaya, ashes from the fire of Mahavatar Babaji. I had felt no previous spiritual connection to these great figures and so was taken aback when I sat down in front of Babaji and closed my eyes. I was immediately, without effort, transported to a place where there were no boundaries…
Words do not, and cannot truly, convey what had occurred in that Temple. All I can say is that I have now resolved to seek ways to return to this place; this time without leaving home; the pilgrimage will continue.
And so to home, temperatures eight degrees and falling, back to a changing world – face masks everywhere, less traffic on the roads. And since then… I pray that once this cloud has passed a brighter, cleaner more loving world will emerge.